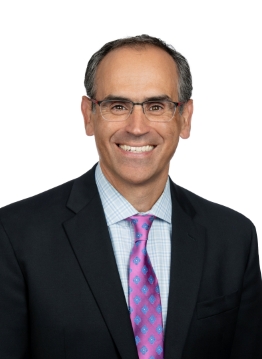 About Fernando Carreira, M.D.
A Chicago native who moved to Denver following medical school, Dr. Carreira joined South Denver GI in 2007 after completing his GI fellowship at the University of Colorado. Along with general gastroenterology, his clinical interests include esophageal disorders and inflammatory bowel disease.  He has previously been recognized as a 5280 Magazine Top Doc. Dr. Carreira has served on two committees for the American Gastroenterology Association focused on underrepresented minorities in health care and government affairs. Further, he was the Skyridge Hospital Department of Medicine Chair in 2014-2015.  Lastly, he served on the Board of Directors for Denver Health and Hospital Authority from 2012 – 2022. Dr. Carreira is fluent in Spanish. 
Schedule Appointment
Patient Care Philosophy
I value my partnerships with patients in helping them achieve an improved quality of life. I recognize that health also includes not only GI specific issues but also psychological, spiritual and other physical needs. I aim to provide the latest technologies but do not forget our very important human needs.
Clinical Expertise
Esophageal Disorders
Crohn's Disease
Ulcerative Colitis
Gastroesophageal reflux disease (GERD)
Education
University of Notre Dame, Bachelor of Science
University of Illinois, College of Medicine, MD
University of Colorado, Residency, Internal Medicine
University of Colorado, Chief Medical Resident
University of Colorado, Fellowship, Gastroenterology
Board Certifications and Societies
American Board of Internal Medicine, Gastroenterology
American Gastroenterological Association
American Association for the Study of Liver Diseases
American Society of Gastrointestinal Endoscopy
Associations and Membership
American Gastroenterology Association Fellow, American College of Gastroenterology
Publications
Kazarian E, Carreira F, Toribara NW. Colonoscopy completion in a large safety net health care system. Clin Gastroenterol Hepatol. 2008;6:438–442
Fazal F, Gu L, Ihnatovych I, Han Y, Wen H, Nenad A, Carreira F, Blomquist J,
Hope T, Ucker D, deLanerolle P. Inhibiting myosin light chain kinase induces apoptosis in vitro and in vivo. Mol Cell Biol. 2005 Jul;25(14):6259-66.
Gopal RK, Carreira F, Baker WA, Glasheen JJ, Crane LA, Prochazca AV. Does Internal Medicine resident burnout affect self-reported quality of care? JGIM 2005; 20, s1, 153-4.
Carreira F, Baker WA, Gopal RK, Glasheen J, Crane LA, Miyoshi TJ, Prochazka AV. Internal Medicine residents reject "Longer and Gentler" training. JGIM 2005; 20; S1: 158.
Carreira F, Anderson RJ. Assessing metabolic acidosis in the intensive care unit: does the method make a difference? Crit Care Med. 2004 May;32(5):1227-8.
Carreira F, Ha K, Blomberg K, Ucker D, de Lanerolle P, Myosin dephosphorylation during apotosis. Presented at the National Medical Student Research Forum, 1998
Borhani M, Eaton D, Carreira F. Gene therapy in myointimal hyperplasia presented by Dr. Borhani at American College of Surgeons in 1996.
Languages
English
Spanish


I felt that Dr. Carreira heard my concerns. He included me in the process he wanted to take to find a solution to my needs.
Read All Reviews


Dr. Carreira. I absolutely love him! He is kind, caring, very knowledgeable, & always take his time with me.
Read All Reviews


Dr. Carreira is the best! He is intelligent, thorough, listens, asks questions, asks if I have any questions, does not make me feel rushed and digs deeper when test results aren't presenting clearly.
Read All Reviews
South Denver GI Locations